HubSpot Beginner's Guide - Part One: Understanding the Essentials
If you're in the market for a new CRM (Client Relationship Management) or CMS (Content Management System) and have chosen HubSpot - welcome! This Beginner's Guide to Using HubSpot will help you understand the essentials of what you can expect when getting started. It also may provide a few tips along the way that will help you identify other areas of the tool you may want to leverage - some more than others.
What is HubSpot?
HubSpot is a powerful inbound marketing tool for businesses that supports you in your journey of attracting, engaging, and converting prospects into customers. Businesses typically search for a tool like HubSpot when they are in need of overhauling manual processes and systems for sales and marketing - unifying their marketing and sales tech stack into one, simple-to-use, robust system of operation.
FUN FACT: We wave the expensive HubSpot onboarding fee that HubSpot charges when you pay for them help you get started - so connect with us before you pay for onboarding services from HubSpot or someone else.
Our team refers to HubSpot as a "citizen developer-friendly" tool, meaning that most of what needs to be created for you in HubSpot doesn't require a costly developer, but some areas do require initial development. Items to consider that may require that extra touch could be coding a new, custom website in HubSpot or unique integrations with proprietary systems and software that your company may be using. But, for start-ups and small-to-medium sized businesses, you should be able to almost 100% operate HubSpot in a care-free manner at any time. Hence, why we regularly suggest it for our clients who are start-ups and small businesses.
You may have heard that HubSpot isn't for enterprise companies.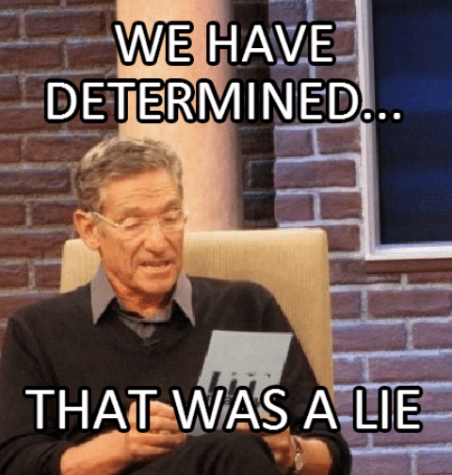 HubSpot is a dynamic tool that's used by many enterprises around the world and our team has implemented HubSpot for enterprises that required customizations with global layering, so don't let other CRM companies sell you on that lie. If you are an enterprise company, no matter how complex your existing CRM is, you absolutely can migrate to and use HubSpot for your CRM and CMS - even Operations and Project Management, but we'll save that for another day.
No matter the size of your business, HubSpot can definitely be overwhelming for beginners - mostly because how a user operates within the system is very different than using an Excel sheet or leveraging a complex tagging and operations system in an existing CRM like Salesforce or Marketo.
The key to remember about using HubSpot is that, in general, it's easy and the functionality actually makes sense. When we've worked in other CRM and CMS systems, we've had to adjust common sense to fit their system of operation (which is so much fun - not). Using HubSpot over time will show you just how much in tune the system is with how your company most likely operates and, if not, provides you with a tried-and-true method for how to manage your sales and marketing efforts effectively.
How to create a HubSpot account and understanding licenses
First, creating a HubSpot account is simple and only requires a few steps. But, which HubSpot license do you need to get started? One of any license type bulleted below would work. The following questions I would ask yourself to help you get started and not overspend are:
What is my immediate need?

What is my monthly budget for marketing and sales systems?

Do I have any other platforms that already do what HubSpot does? (i.e. Constant Contact for email, Zoho for CRM, etc...)



Once you've identified what your immediate needs are, then it's time to pick the license that best fits what you require. If you're not sure, we're happy to help. You can also leverage Free Trials of HubSpot's licenses after you've created an account by clicking this part of the upper right hand corner of your account:

FUN FACT: Did you know that you have the best opportunity to negotiate on HubSpot license costs by working with a partner and bundling your licenses? Partners have the ability to leverage special pricing - helping you get the best deal on HubSpot pricing.
So, which HubSpot license do you need to get started? Take a look at what we suggest you should start with based on your immediate business requirements:
If you're starting off with needing to manage a pipeline and nurture leads, you'll want to explore Sales Hub licenses
If you require immediate email marketing, social media management, marketing automation, and other functionalities, you'll want to explore Marketing Hub licenses
If you're in need of Customer Success functionalities, you'll want to explore Service Hub licenses
If you'd like to leverage blogging or create/migrate your website, you'll want to explore CMS Hub licenses
If you're in need of a ticketing system or operations support, you'll want to explore Operations Hub license
If you're not sure where to start,

schedule a free consultation with us

and we'll advise you on what the best option would be for your business size, model and requirements. And yes, that's 30-minutes with a HubSpot expert at no cost to you.

If you've selected the right license, the next area you'll want to dive into to begin using HubSpot is Global Settings, or the settings that will apply to global (everywhere) assets and tools.
HubSpot's Global Settings v. General Settings: Where to start
Global Settings in HubSpot are essentially settings that apply across multiple items in a specific ecosystem of your platform. As an example, when building a new website in HubSpot, you'll want to make sure that you have a Global Header and Global Footer applied to all of your website pages. This provides a uniformed look that applies to the brand of your company across your website.
General Settings in HubSpot are exactly that - general settings that apply across multiple items, as well as settings that apply to the entirety of your HubSpot platform. These items are found in the upper right section of your HubSpot header (when you're logged in) when you click on an icon that looks like a cog or wheel.

Beginning with General Settings when you start a new HubSpot account is where we suggest you begin. In this area, you'll implement settings that encompass:
Your Preferences - You'll set your contact information, connect your email to HubSpot for synchronized CRM updates and customize your email signature and domains, connect your VOIP or phone system, sync your email's calendar for meetings and customize your default settings for how you manage your tasks in HubSpot's CRM. You can also set up your security/password settings and general notifications for activities in HubSpot across all licenses.
Account Setup - You'll complete all of your preferred default settings, add/remove users and change user access levels, connect apps and integrate other software that your business is using so that everything talks to each other correctly, access any downloads you've implemented from HubSpot's Marketplace, set tracking codes for marketing and sales campaigns, and set data privacy settings such as GDPR.
Data Management - You'll set all of your properties and objects in HubSpot, such as fields that are required on a landing page form, customize your lifecycle stages or pipeline stages, customize your record-level view in your CRM, as well as import and export data.
Tools - Exactly as it sounds, you can access tools within HubSpot and their settings from this area of your system. Items such as calling operations, ads, email and marketing forms, website domain management, blog page settings and subscriptions, as well as payments.
All in all, this may take several hours to complete, but DO NOT skip your general settings setup!
It's imperative for your company to leverage the settings section of your new HubSpot account immediately in order to best utilize the features and functions of the specific license(s) you've purchased.
Essential Considerations for Implementing a HubSpot CRM
If you've chosen to start with a Sales Hub license because you're in need of something to support your company's business development and sales efforts, we advise starting with HubSpot's out-of-the-box CRM functionalities. Everything you need for essential account management and outreach are within their Sales Hub licenses.
What if you're an enterprise client with a complicated CRM that needs to be migrated?
Before onboarding HubSpot and migrating an existing CRM system into the platform, consult with a HubSpot data migration expert. We advise against doing this yourself - even if you have an in-house team of Business Analysts and Operations Specialists team members. HubSpot is a unique system and is not like other CRMs in the sense of how objects and properties are constructed. You can migrate your existing CRM infrastructure to HubSpot, but we advise better understanding change management processes, your approach to implementation, cleaning up your existing CRM data and also developing a plan of action that results in as little disruption to your existing business as possible.
If you're considering a "rip and replace" approach for a CRM instead of a full system migration, we still advise consulting with a professional to work with you to guide you through best practices for how to reinvent your data and process maps within HubSpot's platform in a way that reflects your exact business processes.
FUN FACT: If you've used HubSpot in the past (prior to their initial CRM launch) you may wonder if they still charge for contacts. Great news: they don't charge for sales contacts - only for sales seats and enhanced sales functionalities. Users can now differentiate between contacts that sales and marketing use and isolate them accordingly.
As an overview, HubSpot's CRM (customer relationship management) platform helps companies attract, convert, and retain customers. It offers a variety of essential items and tools that businesses require to functionally support and operate within sales. Essential items like Deals, Tasks, Reporting and Pipeline we'll cover in our next Beginner's Guide that's focused primarily on the CRM facet of essential use and management.
Essential Considerations for HubSpot Marketing Hubs
HubSpot's Marketing Hub and CMS Hub are very, very powerful tools that support marketing and sales efforts. The challenge we find most people facing when wondering how to best implement HubSpot's Marketing-centric Hubs are where to start with the different license types.
HubSpot does offer Free Trials of their Marketing Hub and CMS Hub, however, intentionally, they are very limited. In fact, you're better off scheduling a quick call with us to have us briefly run you through what you're getting with HubSpot's free edition of their Marketing-centric Hubs. Again, you can start there, but it would be a waste of time if you're ready to get moving with an easy-to-use and data-robust marketing platform.
To access the Marketing Hub features in your HubSpot account, you'll want to navigate to the left side of your navigation after you log in: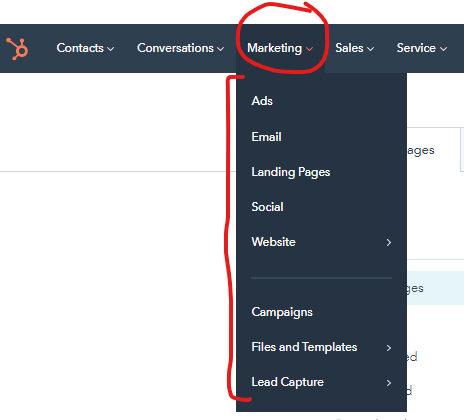 This section provides you with every marketing feature that HubSpot offers, with the exception of their chat functionalities which is found to the left of Marketing under "Conversations". However, there is a debate internally here as to whether we classify that as a marketing or sales tool as it depends on how Conversations are utilized. And that's a story for another day and another blog - maybe a video discussion? We shall see.
When considering your license for Marketing and CMS Hub, you have to ask yourself if the following applies to your business situation:
Are you currently managing your paid social and search ads in various portals with disjointed reporting?
Are you able to attribute outbound and inbound email behavior to your CRM contact's profiles?
Do you presently use other sources for landing pages like Unbounce or custom-created pages on WordPress?
Are you currently logging in to every social media channel to post or using a costly social media management tool via Buffer, SproutSocial, Hootsuite or other platform?
Are all of the above, specifically email, ads, social media posts and landing pages easily tracked back to the campaign you are running - easily showing you attributed, joint ROI across all channels based on your campaign's budget?
Phew. That was a lot of questions.
But all of those questions will tell you what matters more in HubSpot and should be considered when starting to use HubSpot's marketing-centric tools. The beauty of HubSpot, and its power, is that it takes all of your individual marketing channels and sources and brings them together in one single, unified system. Now, if you are having a great time with another website hosting platform like WordPress and really enjoy Unbounce for landing pages, this doesn't mean that HubSpot can't also bring all of that data together with you as you use it alongside your other systems. It's that diverse and flexible.
Publishing Content with HubSpot's CMS Hub - Tips and Reminders
When considering HubSpot's features, specifically within its CMS Hub, adding content to various assets in HubSpot is also an essential part of effectively launching your marketing plans. Accessibility and ease of use are huge when considering how to empower your marketing and sales teams. HubSpot provides a variety of tools and templates that make it easy to create, optimize, and publish content within their CMS functionalities. HubSpot's Content Creation Tools allow users to quickly write and publish blog posts, emails, webpages, and other pieces of content right from their HubSpot account. And don't forget the Call-to-Action in your content. CTAs are used to improve lead generation and conversion. HubSpot's CTA tool is flexible, allowing you to customize your CTAs and landing pages for each user experience.
Similarly, editing and formatting HubSpot content is an important step in creating effective inbound marketing campaigns. HubSpot makes it easy to edit and format content with a variety of tools and features and their Editor Tool allows users to quickly make changes to content, add images and videos, create links, and more - giving your content an effective boost. HubSpot's Scheduling Tool also makes publishing content extremely easy and effective - helping marketing with time management.
What about reporting functionalities in HubSpot?
HubSpot's Reporting & Insights dashboard functionalities is a huge differentiator for both CRM and CMS users. It provides a range of reporting capabilities including real-time reporting on website performance over time as well as detailed breakdowns of individual webpages, marketing emails, or campaigns. You can use this information to measure the impact of campaigns and identify areas for improvement within sales and marketing to optimize ROI. With insight into customer behavior and easy-to-understand reports on campaign performance, reporting and dashboards can be used to help companies make informed decisions about their marketing efforts so they can deliver maximum impact from every campaign they run.
What's beautiful about using HubSpot is the ability for you to easily create your own dashboards and reports WITHOUT a developer. You can easily customize your reporting and choose pre-configured constructs that help your company tie in sales and marketing efforts - providing visibility into your team's complete impact on your business.
When you set up your new HubSpot account, head over to Reports > Dashboards to create your first custom report or connect with our team and we can walk you through best practices for how to get started.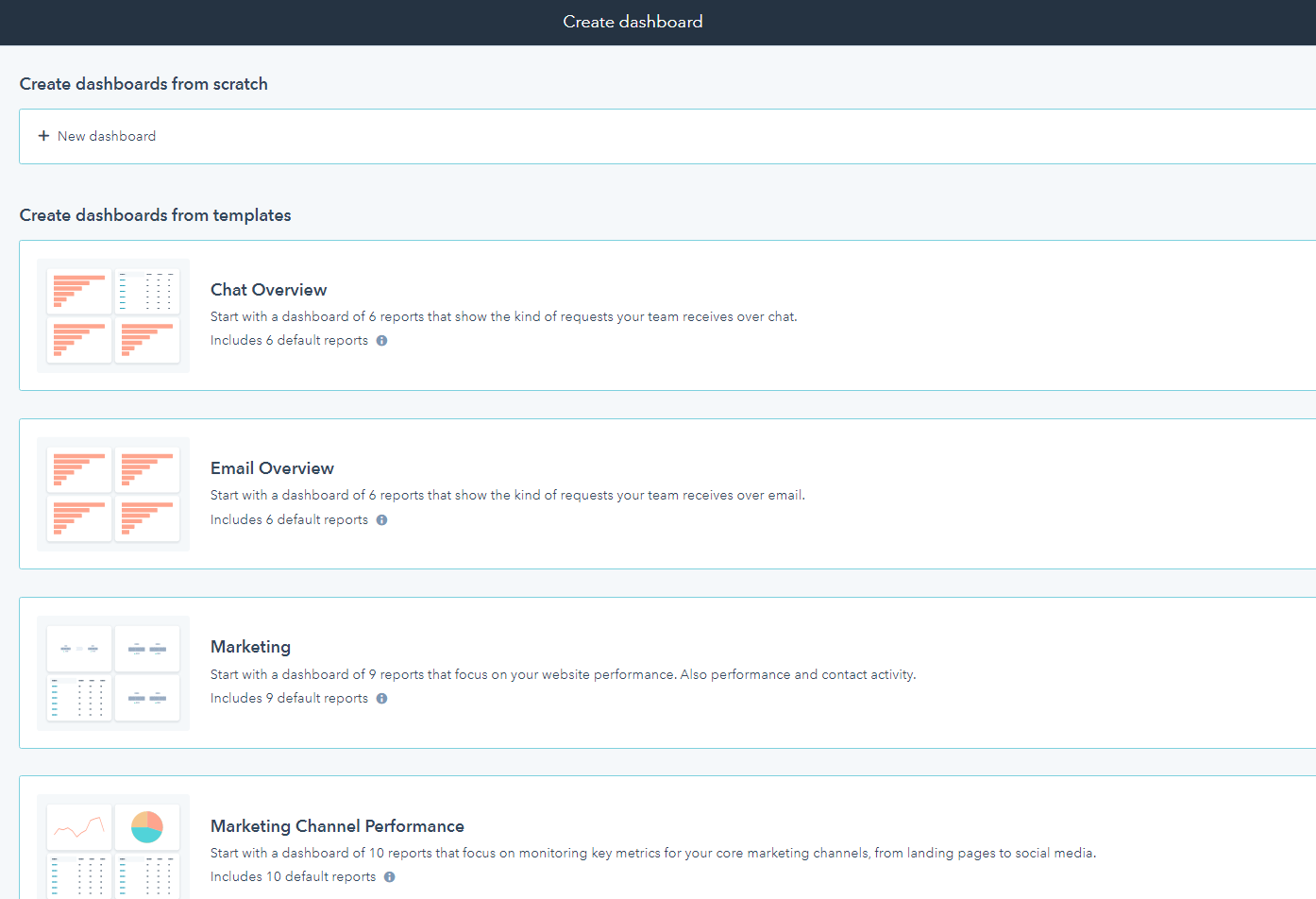 Concluding Considerations for HubSpot
We're going to dive more into essential features for HubSpot and hope you've found this blog valuable if you're researching the essentials for how to leverage and create your new HubSpot account correctly. At the end of the day, HubSpot needs to fit for your business and, large or small, it does fit all businesses.
Some high-level reminders for you from this post (TLDR):
Work with a partner to get the best pricing on HubSpot licenses

Get your General Settings set up as soon as possible - don't skip this step

Make sure to ask the right questions and be honest with yourself about what you need versus want to cut down on costs with your HubSpot licenses

Don't try to migrate an existing CRM into HubSpot without support from a professional

Make sure that you're not purchasing HubSpot when you have other systems that have the same functionalities - work on a migration plan to transfer those processes into HubSpot and unify your tech stack for optimized reporting and useability

Don't forget to set up your reporting and dashboard functions when you get into your new HubSpot system - even if all of your licenses aren't purchased yet.
For assistance getting the most out of your HubSpot platform or to receive guidance for how to best construct your new CRM or CMS, schedule a discovery call with us and we'll help you get moving. We're an education-focused firm that wants to enable you to be successful, not upsell you - so there's no fine print or nonsense with our discovery calls - just help, facts and advise.