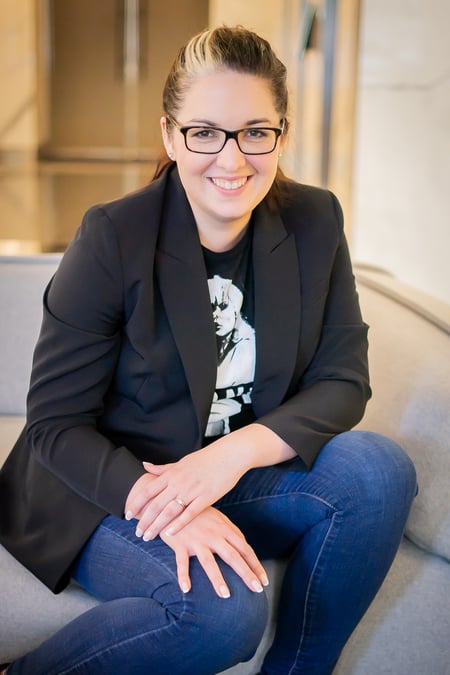 But first, a quick note from our CEO
Elizabeth "Beth" Krohn, CEO of Krohn Marketing Inc.
Thank you for visiting our site! After many years of working with B2B marketing and sales companies on a global scale, in 2016 I decided to start a strategic marketing and sales consulting firm that puts people before profit - the ultimate solution for rapid growth.
My vision was to create an environment where my colleagues and I could come together and do what we had always talked about around the corporate water cooler: break down the barrier of entry for companies to become the enterprises they know they can become.
The core of our operation is set on this key mantra: Educate. Direct. Ignite.
We work to educate businesses about real-life marketing, sales and business best practices, direct them in how to properly leverage tools, platforms, and strategies, and ignite their passion for growth.
We can't wait to work with you on the adventure that is your business!
Reach out to me directly if you have any questions - I'd love to hear from you.
A little bit more about our...
Corporate Identity
We work with businesses that want to grow, change and become leaders in their industry. Spanning 10+ industries, our clients are always set up to be successful and thrive in the areas they require the most improvement.
Our mission is to teach companies how to grow and drive positive change by creating healthy and functional marketing, sales and business development teams, programs and systems of operation
Our vision is to be a global leader in B2B professional development and advisory services.
We are not an agency.
As a part of our corporate identity, we do not support an agency model for services. This means that we will never be a large, bloated company that focuses on the bottom-line and places its customers last. Working with us will always mean that you come first - every time - and quality will supersede quantity.
We provide a personalized, 1:1 relationship with clients and go above and beyond to support them. This is our client-first model and will not change.
We work with businesses on a global scale to help them refresh and optimize their sales, marketing and business development efforts, launch via new initiatives and divisions - helping them significantly improve and optimize their bottom-line.
Our value lies in our experience, network, and high-quality service. You will always get the truth and never receive sub-par results from our team of knowledge experts.
Just in case you'd like to...
Get to know some of our team members
Curious to know if we're really... real? Below we've provided the high level accomplishments of our team members, their specialties and how you can engage with them in order to evaluate who you're working with and how they can help your business.
Elizabeth "Beth" Krohn
CEO & Founder at Krohn Marketing Inc.
Role/Responsibility: Fractional Executive (CEO, CMO, CRO, COO), Operational Efficiency Strategist, Startup Advisor, RevOps System Architecture, Digital Marketing Strategy, L&D Program Creator, Channel Marketing and Sales, HubSpot & Other Business Systems
Credentials: Master of Business Administration (Liberty University), Bachelor of Science - Business, Marketing and Project Management (Western Governor's University), Associate of Science - Sociology and Business (Erie Community College), Project+ Certified Project Manager (CompTIA)
Recent Awards: Top HubSpot Service Provider of 2022 (MarTech Outlook), 50 Top Innovative Company Executives of 2023 (The Silicon Review)
Volunteer Work: Board Member and Marketing Chair for the National Association of Women Business Owners (NAWBO) - Phoenix, Compassion International Philanthropic Partner
Jake Haynie
Advertising and Lead Generation
Role/Responsibility: Paid Advertising (Google, PPC, Facebook, LinkedIn) and Digital Marketing/Lead Generation
Credentials: 10+ years of B2B advertising and lead generation experience serving global organizations across various industries.
Location and Activities: Operating out of Salt Lake City, Utah, Jake enjoys spending time with his wife and children as well working with young adults to help them identify how they can grow in their professional abilities.
Eric Lebowitz
Business Systems & HubSpot Specialist
Role/Responsibility: HubSpot CRM/CMS, Salesforce, MailChimp, Marketo, Constant Contact, et al similar sales/marketing platforms and systems, Digital Marketing and Advertising
Credentials: Master of Science, Education (Long Island University), Bachelor of Arts, Journalism (SUNY), HubSpot Inbound Marketing Certified
Location and Activities: Operating out of New York, New York, Eric enjoys spending time with his wife and daughter while working with small businesses to help them maximize their opportunities for growth and maximize their business systems.
Jahmal White
Fractional Creative Director and NextGen Mentor
Role/Responsibility: Serves as supporting creative director for B2B clients in a variety of industries and is also a NextGen Mentor for young professionals in the workplace.
Credentials: Bachelor of Arts, LA Film School, 10+ years of experience coaching and mentoring.
Location and Activities: Operating out of Phoenix, Arizona, Jahmal enjoys spending time with his family and working with friends in competitive Hooverball events across the Valley. A major sports enthusiast, you'll find Jahmal attending a Phoenix Suns game or getting things done on the court himself in between working with his clients.
Debbora Woods-Schmitt
Communications Strategist and Professional Development Coach
Role/Responsibility: Communications, Fundraising, Public Relations and Professional Development for B2B and B2C for-profit and non-profit organizations
Credentials: Masters of Business Administration, MBA and Organizational Leadership (Grand Canyon University), Bachelors of Science, Biology and Chemistry (Grand Canyon University), Six Sigma Green Belt Certified, ABM Certified
Location and Activities: A former resident of Alaska, Debbora enjoys spending time with her family and friends while residing in Texas. A wildlife advocate and conservationist, Debbora loves the outdoors and spends her spare time working with non-profit organizations to help them fundraise an advocate for the safety and protection of endangered animals.
Community Involvement
Why Giving Back Matters To Us
When you work with us, you're not only working with the best marketing consultants and support team in the country, you're also becoming a part of our community and who we give back to. Our company supports various organizations and strives to give back through volunteer time, direct financial contributions and much more.
We all come from humble beginnings and wouldn't be where we are today without the support of others - giving us a hand, up.
Connect with Us
Looking for the right team to grow your business?
Our team is currently accepting new clients and are ready to speak with you about your next project. Please fill in the form below and we will be in touch via email.